Things You Should Know about being a Contestant in Huntsville Superstar 2018!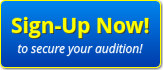 After the registration, what should a contestant expect? The following are the official Huntsville Superstar 2018 detailed Contestant Information, rules, and guidelines.
DO NOT TAKE THIS CONTEST LIGHTLY! Huntsville Superstar is being promoted & talked about all around East Texas, and a $2,500.00 Prize & Recording Opportunity is being touted. Rest assured that you will most likely be competing against a good number of extremely competent and polished singer/performers. This will not be child's-play — GET READY TO COMPETE!!!
CONTESTANTS & AUDIENCE MEMBERS: You, the performer, should have properly entered this contest by 1). paying a $35.00 entry fee, and 2). filling out, and submitting the online contestant entry form (sign-up here).  This form contains basic information about you, along with your (non refundable) $35.00 online entry fee payment.
IMPORTANT — GET YOUR ONLINE CONTESTANT APPLICATION IN QUICKLY: To secure your place as a contestant, we suggest that you get your online application in as quickly as possible. Because of the great prize package ($2,500.00 and a Recording Opportunity), it is possible to see a larger number of initial contestants. Because of this, we will accept signups only as openings on the roster remain available. However, we must receive all online entry application packets by No Later Than Midnight Friday July 20, 2018.
Assuming you have done all of that, you will be assigned a contestant number which will be your number throughout the entire competition. ONCE AGAIN — IT IS EXTREMELY IMPORTANT THAT YOU DO NOT PUT OFF SUBMITTING YOUR ONLINE APPLICATION!!!
Once again, we are looking forward to seeing everyone at 4 pm, on Saturday afternoon, July 21, 2018, at the Old Town Theatre on 12th Street in Huntsville, TX.
MORE INFO TO COME!
PLEASE RETURN TO THIS PAGE SOON & OFTEN, AS INFORMATION IS ADDED DAILY!